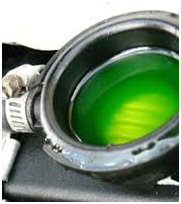 Corrosion Inhibitor For Antifreeze Coolant
Price And Quantity
100.00 - 1500.00 INR

245 INR
Product Description
Description :
Corrosion Inhibitor TAP 3333 is a nitrite-, amine-, silicate-, borate- and phosphate-free ethylene glycol based inhibitor concentrate.
When formulated as described below, it will function both as antifreeze and coolant and impart good corrosion protection to all cooling system metals and alloys found in internal combustion engines.
Unlike our higher performance coolants, it is recommended to change the coolant after one year usage.
Blending engine coolant:
Coolants meeting the Japanese Standard JIS-K-2234/1994 requirements concentrate form can be made by simply mixing the following liquids Corrosion Inhibitor TAP 3333 at ambient temperatures:'

| | |
| --- | --- |
| Corrosion Inhibitor TAP 3333 | 5wt. % |
| Mono Ethylene Glycol | 95 wt. % |
When formulating a ready-mix (i.e. a mixture of above described engine coolant concentrate) the following recommendations apply:
It is recommended to use at least 33 vol.% of the engine coolant concentrate in the ready mix.
This provides frost protection to -20 oC. For optimum frost and corrosion protection a dosage of 50 vol.% of engine coolant concentrate is recommended.
Concentrations higher than 60 vol.% are not recommended for use in vehicles.
Performance Chemicals :

Chemical nature

: Ethylene glycol with TAP 3333 CORROSION inhibitors

Appearance

Clear liquid

VISUAL

Colour

slightly yellow to amber

VISUAL

Specific gravity 25/25

1.13 +/-0.01

ASTM D 1122

pH

9.7 0.2

ASTM D 1287

Reserve alkalinity, 2 g

7.5 +/-1.0 ml 0.1 N HCl

ASTM D 1121

Water

21.5 +/-1.0 %

ASTM D 1123
Contact Us
801, Ghanshyam Enclave, Link Road, Lalji Pada, Near Lalji Pada Police Chowki, Kandivali (West), Mumbai, Maharashtra, 400067, India
Phone :+918045801275