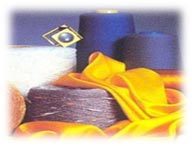 Coning Oil Emulsifier
Price And Quantity
100.00 - 1500.00 INR

245 INR
Product Description
Specification :

CHARACTERISTICS

VALUES

COLOR ASTM, MAX

2.0

LIGHT YELLOW CLEAR LIQUID

TAN mg KOH/gm

1.0

VISCOSITY CST @100oC

12-18

FLASH POINT COC oC

170

DENSITY @ 27oC, gm/cc

0.91

DOSAGES, %WT

6.0-11.0

EMULSION STABILITY (@7.0% W/W IN OIL)

STABLE FOR 24 HRS

PH OF EMULSION

7.5

ASH % W/W OF FINISHED OIL

0.1

STORAGE TEMP oC

MAX. 50oC

BLENDING TEMPERATURE

MAX. 60oC

STORAGE STABILITY

2YRS WITH PROPER CONDITIONS
TAP 563N is non ionic soluble emulsifier additive for all type of fibers & textile applications.
It is compatible with all type of paraffinic base oils having viscosity of SN 70 to SN 150.
TAP 563N is non ionic antistatic emulsifier for making soluble oils for applications in fibre, textile machines and machine industries.
TAP 563N contains deteregent disperasant, antibacterial etc.
TAP 563N can be used in mineral base oils paraffinic type to meet requirements.
Treat dosage in mineral base oil of egyptian type (viscosity @40oC 32cst and 18 cSt) is approx. 9 +/- 2 %. Which formulation gives emulsion in water @ 5 % (1:20).
Milky emulsion produced is stable and passes IP 263 with hard water and passes iron chip test 0/1-2
Passes froth test and ip312 in 5 minutes nil.
Use our superior quality Coning Oil Emulsifiers which are non staining. They are available with good emulsion stability and excellent antistatic property and many more. Moreover, they are appreciated by all our valued clients'. The offered products are manufactured using highly refined minerals oils, and are inspected by our experts. In addition to that, they are durable and available at reasonable prices. The Coning Oil Emulsifiers are highly demanded in the market, due to their high grade quality and great properties.

Contact Us
801, Ghanshyam Enclave, Link Road, Lalji Pada, Near Lalji Pada Police Chowki, Kandivali (West), Mumbai, Maharashtra, 400067, India
Phone :+918045801275