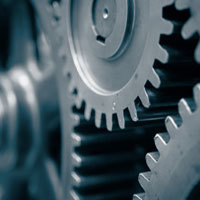 Bearing Oil
Product Description
These are premium quality heavy duty Film Bearing and Circulating Oil. These oils are fortified with high viscosity index base stocks with superior oxidation and thermal stability.
Having good demulsibility, low foaming, excellent rust protection and good film strength property to minimize wear in roll-neck bearings of Steel mills.
The quality of the oil is further enhanced by the presence of selected grades of Anti-Oxidants, Anti-Rust, Demulsifier and Defoamer.
They meet the performance requirements of BIS: 6552-1987 and IPSS: 1-09-001-81.
They are most suitable for use in the Morgan Bearings of Steel Mills. Morgan Bearings are used in the Plate Mill, Wire Rod Mill, Merchant Mill, Blooming and Billet Mill and Rail & Structural Mill.
It is also recommended where the bearings are under heavy load and in the presence of water.
Contact Us
801, Ghanshyam Enclave, Link Road, Lalji Pada, Near Lalji Pada Police Chowki, Kandivali (West), Mumbai, Maharashtra, 400067, India
Phone :+918045801275